Bike Mag have just published a great video featuring the ever inspirational ACC as part of their "Beyond the Bike" video series. Check out the full article here, or just read the text below.
December 14, 2016 By Lacy Kemp Video: Jasper Wesselman | Photo: Nicolas Joly
Ask anyone entrenched in the gravity side of mountain biking who holds the title of the 'Greatest of All Time,' and you may hear familiar names like Peaty, Vouilloz, Minnaar, but one will likely come up over and over again: Anne-Caroline Chausson. The French star holds the G.O.A.T. torch with 19 World Championship titles and the first-ever women's Olympic gold in BMX. While there are many great riders, and other world champions, there are very few legends, and only one Anne-Caroline.
Anne first hopped on a bike at age 6 for the same reason as many of us: She wanted to chase her older brothers around. What her family discovered was her natural ability for speed and calculation. Anne was an instant prodigy on two wheels. She began entering local BMX races and it wasn't long before she'd won her first world title, in the BMX Juniors category, at the ripe age of 10 . BMX was her focus for the majority of her youth, but at 16 she transitioned into racing mountain bikes due to the lack of opportunity in Europe for professional female BMX racers.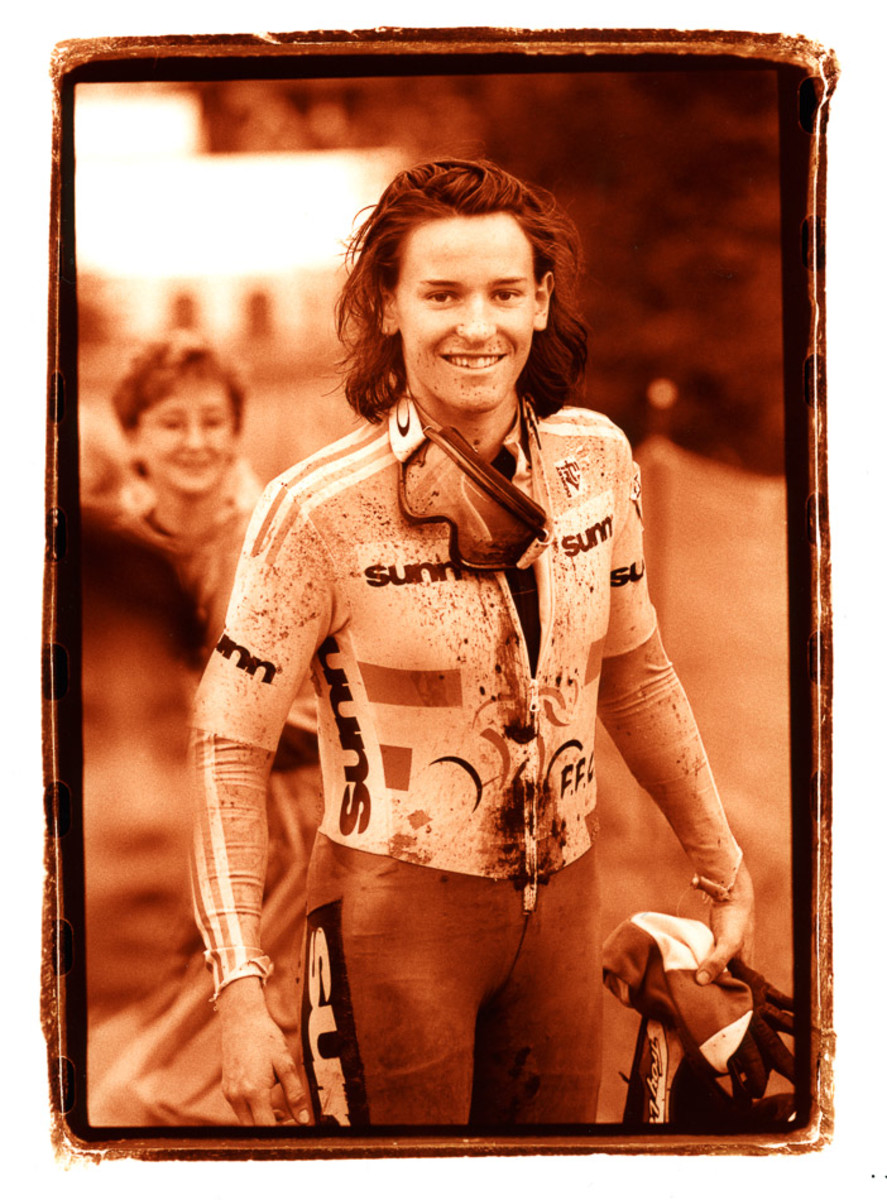 Anne-Caroline Chausson shown minutes after winning the 1998 World Championships in Mont–Sainte–Anne, Quebec. Photo: John Gibson
Mountain biking provided a fresh start for Anne's racing career. "It was new. More traveling, more fun and more money. When you're 17 everything is awesome," she said with a laugh. Anne's transition to mountain biking was natural and instantly successful. Within two months of switching to 26-inch wheels she'd won her first mountain bike world title. Throughout her career she tacked on another 13 world titles between 4X and downhill.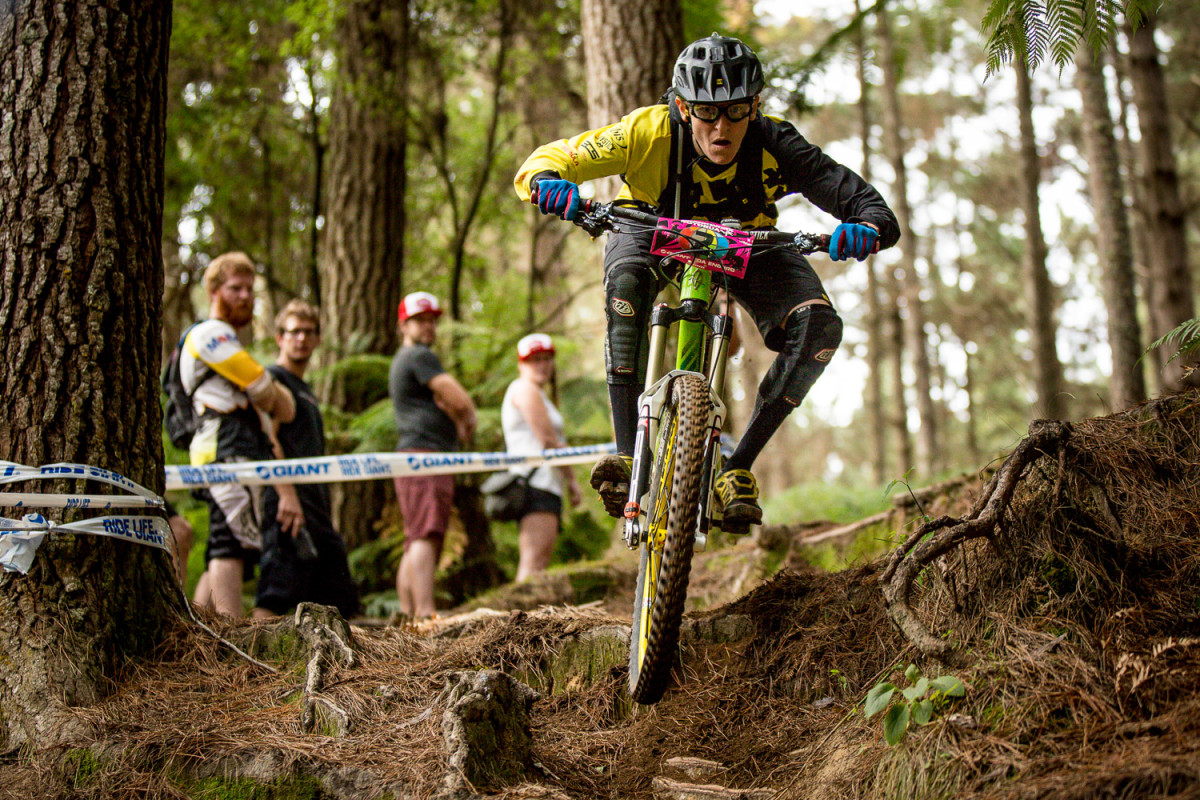 Chausson was slow to recover after winning the opening round of the 2015 Enduro World Series at Crankworx Rotorua, New Zealand. Photo: Matt Wragg
Anne on her way to winning the 2015 Enduro World Series at Crankworx Rotorua, New Zealand, in March of 2015. She noticed that her recovery from the event took longer than normal, but continued with her racing schedule. Photo: Anthony Smith
While Anne's racing career is one for the record books, her latest victory is by far the most significant. In the winter of 2015 at age 37, Anne was diagnosed with ovarian cancer. With a family history of cancer, Anne's thoughts immediately turned to mortality. "My dad died from cancer, so for me it was really hard. I thought, 'I'm going to die,'" she said. With two surgeries to remove her tumor and another for a collapsed lung, Anne's physical condition was in a rough state. But champions don't roll over easily, and her mental toughness from decades of racing played a critical role in her battle against the disease.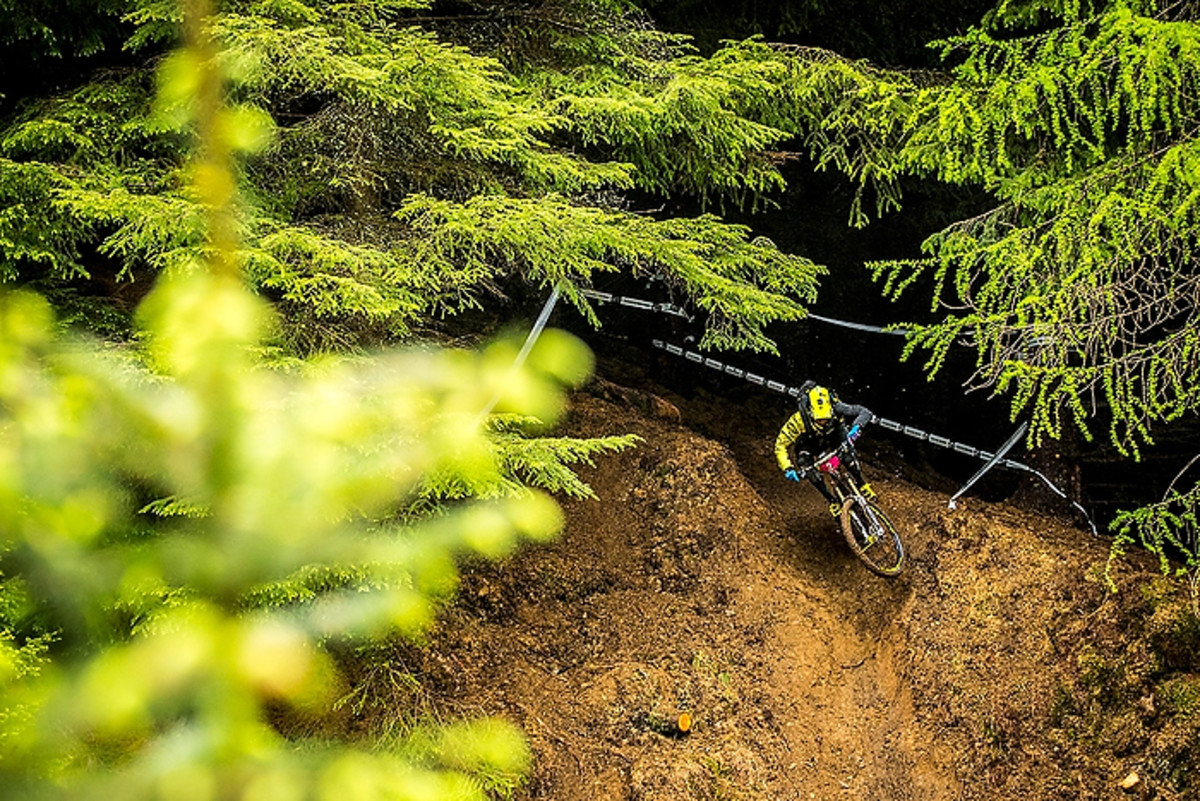 She doesn't look it here, but Anne was feeling the effects of cancer in May of 2015 while racing the Enduro World Series in Scotland. She'd be diagnosed with cancer two months later, after leaving the EWS event in Samoëns without finishing. Photo: Sven Martin
"You are sick, but you can heal," she said. "You have to learn to work with it." She took her mental preparation for racing and applied it to recovery. "In racing, if two people have the same training program, the person with better mentality will win. When I learned I was sick I said, 'OK, but I'm not going to wait on the sofa.'" She walked when she was able to muster the energy to move. She got on her motorbike when she felt she had the balance. She slowly clawed her way back onto her mountain bike, accomplishing her ultimate goal of competing in and finishing the Whistler Enduro World Series race in 2016. She not only finished, but she managed a 3rd place on the day's toughest stage. An impressive feat for anyone, let alone someone fresh off of a cancer diagnosis.
Our sport has champions, legends, inspirations and heroes, but only Anne-Caroline Chausson carries the title of all four. It's what makes her the Greatest of All Time.
---